One workshop. One teambuilding. Uniting the cultures in your workplace.
CREATIVE, INTEGRATIVE, INTERCULTURAL: WORKSHOPS AND TEAMBUILDINGS
Your team stories, guaranteed to make a difference.
A unique giveaway designed by you, inspired by you, made to celebrate you!
---
We organize workshops for groups of 3 to 26 people, in which we use storytelling as a tool to discover common points and bridge differences. The outcome is a unique, personal give-away, displaying the results of the creative process, which can be gifted to colleagues, partners, customers.
We go together through the sharing process and we start with empowering honest conversations. We use your creativity to design your give-away, such as socks, t-shirts, bags, scarves and more.
You bring the story, we provide the fashion canvas to tell it on.
#celebrateyou
Why is this experience different than any other workshops?
Empowerment through storytelling
Your stories are guaranteed to make a difference, especially at a workplace or in a small community. We are the stories we tell ourselves every day. Stories about success, about cultural biases, discrimination, or motivation. In our workshop we acknowledge our own stories, we share them with others. Then we come together to overcome how they have shaped us and the marks they left on us. Finally, we can use these stories as sources of positive energy and self-confidence.
Your team story as a unique giveaway
We guide you through a storytelling process and we help you get to the essence of your own creative path. From this, we derive a giveaway that best suits the needs of your community. We have made socks for universities and schools, as give-aways for their students. We have made corporate items for customers and partners, to celebrate company anniversaries and special occasions such as Christmas.  Anything you can imagine that would fit as a gift.
Perfect for every intercultural team or community
Your benefits
This workshop helps create a more harmonious work environment in which colleagues know each other's internal values. It creates a more enjoyable workplace in which everyone can feel integrated, it brings in a culture of wellbeing driven by honest listening and sharing, a working climate improved through understanding the team's cultural backgrounds.
After the workshop, you carry this unique experience in the form of a giveaway.
Does this make you want to explore more? Then contact us!
Our Role
This is our purpose as Younited Cultures: to help you tell the stories which have really shaped you, to discover the unspoken values that drive you. To connect honestly with your peers starting from these stories. And to make sure your community have a happier working life together, in this diverse modern age.
Your choice
We offer two formats : a teambuilding and a workshop. The content can be discussed and adapted, together with the duration, the impact and the take-aways. Having worked in multi-cultural environments ourselves, we understand how to adapt to various needs, while maintaining a positive attitude.
Choose the perfect format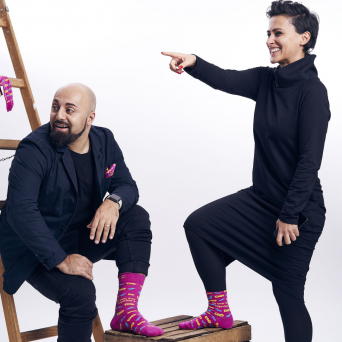 The workshop: Discover the culture you bring in your working-culture
Focused on open communication and sharing, resolving conflicts, and discovering hidden values.
This workshop is for you if in your community:
Your colleagues come from various cultural backgrounds
It is a work environment where tensions are common
Many communication issues which start from a personal level
Demotivation of certain individuals, even if the feedback culture is strong
Low retention rate is common
A general feeling of depreciation and loss of joyfulness
Struggles to successfully reconcile work and personal life
The teambuilding: Create a giveaway inspired by the cultural experience of your work community
Based on creativity, coming together through experience sharing, decision making, listening, and communicating.
This teambuilding is for you if you want to:
Unite a team under a common symbol
Have a fun, light way to bring more creativity
Create a giveaway for (new) members, colleagues, partners, or customers
See people share deep experiences and connect on a very personal level
Take the time to get to know everyone better, especially new co-workers, and rediscover their motivations