"Our vision? To celebrate migration everywhere, anywhere, at all times!"
Two women sitting in an empty café, getting to know each other's stories. This is how Younited Cultures came alive. Today we make your story wearable!
---
Hi. We are Andra and Iulia, two migrants from Romania. Sharing the same experiences and challenges we faced as migrants: exclusion from groups, rejection from jobs, the bad perception … we also shared the wish to create the world we were both envisioning.
We realized that the topic of "migration" needs new channels of communication, new approaches against discrimination, and more creativity. Younited Cultures is our colorful answer. Migration and success are the two topics our concept picks up.
Our goal is to make success stories of migrations visible and wearable. Together we discover inspiring stories, listen and visualize them through sustainable designer scarfs and socks with a social impact. It is not about fashion products, it is about the stories they tell. This creative approach also made us the winner of the Social Impact Start Award in 2014 and the Eco-Business Plan Award in 2016.
We are proud to be migrants! Our products are an honest, cooperative, and innovative way to visualize the positive impact of im/migrants and set a clear sign. The income is reinvested in new migrant stories and socks meant to bring awareness towards the positive side of migration.
Be proud, celebrate you!
#rebrandingmigration
Andra Weiss
CEO, PR, sales, marketing and partnerships.
Andra's big passion lies within storytelling and chocolate ice cream. She wants to inspire and lead by a colorful example. Her "celebrate migration scarf" is her distinctive mark. To Andra, fashion is more than products, it is about people. With YC she does not want to set fashion trends but value-trends.
Iulia Berger-Mugescu
CEO,  marketing, finances, graphic design, workshops.
If multitasking was a person, it would be Julia. Julia thinks in symbols and key-words. She is constantly working – preferably on many projects at the same time in order to be able to switch between topics and designs. At YC her to-do list starts with creative tasks and ends with the finances.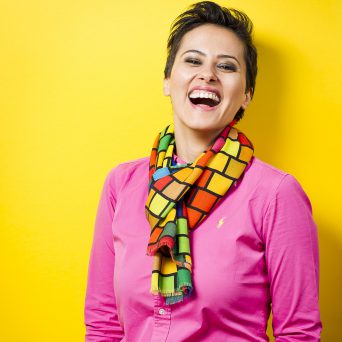 Our Mission
We aim to produce high-quality accessories that tell a story and set a clear and positive sign for migration. Our first priority is personal stories and honesty.
We perceive YC products as a medium to kick start discussions and conversations. Discussions about origins, home, and integration, but also about our clothes and the work that stands behind.
As an eco-social fashion label, it is our personal concern to ensure that we can trust in all our partners and collaborators. We ensure fair working conditions in every single production step.
Our Values
We act in a financially, socially, and environmentally sustainable way and create added value through increased awareness of positive migration and cultural diversity. The proceeds are partly reinvested in new stories/products and also go to support disadvantaged migrants to help them enter the labor market.
Symbol
With our colorful YC-pattern, we developed a unique and outstanding symbol for migration and cultural diversity. Every color of the "celebrate migration" design stands for a different culture. When being combined they merge into a pattern celebrating creativity and diversity. A colorful unit, bringing our message and values to the world.
The value chain of our social business
How we do it
Younited Cultures has been deeply shaped by the amazing partners and friends and family who have helped us step by step to turn our vision into reality.
Creation: We always start from an inspiring person, someone we know is shaping the world to be a happier place. We explore together their cultural past, the influences, the motivations. We dive into deep conversations about being and doing, about pride, and making a statement. We design together symbols, we choose colors, we explore what we can visually bring into the world.
Production: We discuss with our production partners, each with over 50 years experience in the production of fashion accessories. They signal out to us what is the most responsible decision to take, the best textile to choose to balance out sustainability and durability. We start working on a prototype in Vienna. And we wait for the first samples from Italy and Romania, where our production partners are based. We package everything back in Vienna, where we do our quality check and keep an optimized stock, just enough to allow us to achieve the impact we hope for that year. From here we send it to our community across the globe, always having sustainability on our minds.
From Italy
We are always amazed at how fine the textile turns out to be. The fiber they use in the region of Milano stands as proof of the hundreds of years of fashion expertise. Of course, the quality slightly differs from year to year, depending on how dry or wet the season was. You can see this on the scarves looking at the colors or feeling the fullness of the textile. They also manually prepare the finishing in an Italian fashion, rolling them gently to protect the fibers and adding a final caring touch. We consider them our premium products because of the care we all take while making them and the small production batches, always influenced by the zeitgeist.
From Romania
We know in great detail even how the machines function and what is possible to create.
We appreciate the versatility of this process and also the durability of the items. With more than 100 years of experience in producing socks and working with cotton, they help us make every product feel comfortable.
We always select the colors and the fiber-based on the best available option in the OEKO-TEX spectrum. Our special relationship allows us to develop even the most challenging designs and turn them into reality.
Our sustainability and responsibility criteria
Regional EU production
We love our production partners because they are situated less than 800 km aways from our main warehouse near Vienna: the first partners for the scarves, which we consider the premium product, is based in Lake Como. The production is completed in Italy, and respects all the quality standards of European fashion.
The partners for the socks are located in the small town in Transylvania, our original home-town. Because the production is in Romania and we have family-ties to the workers there, we know in detail how the work is done. The fibers used are either produced by our partners, sources from the surroundings, or coming from Turkey, which is the farthest point in our supply chain.
We are proud to be able to say "Made in EU" on each of our items.
OEKO-TEX
One of the criteria we use in the production of our socks is the OEKO-TEX certification. Simplified, this certification means that the clothes you are buying have been made without using harmful chemicals. There are over 100 different substances that are tested for our factory to obtain this certification. This includes the color dyes, the finishes, the washing materials, etc.
This certification must be updated annually, as the criteria and the tested substances are changing annually. These standards are set by 18 independent research and test institutes in Europe and Japan. They are the ones deciding the limits and the test methods which then become the basis for that year's OEKOTEX standard.
Therefore all certifications are conducted by independent laboratories and it is a very detailed testing, searching for almost every possible way in which substances can be transferred from textiles into the body.
We value that our products are free of harmful chemicals and can be worn without any dangers to the skin or any trigger for allergies.
Sustainability of materials
When designing our products we take into account 2 main factors: using the most natural fiber that we can use, such as cotton or wool. And making the product as durable as possible, to avoid the fast-fashion trap. Over 75% of each product contains natural fibers which are very easily biodegradable. The other 25% is mixed in to ensure a longer life for the item.
Corporate workshops and produce on demand
Apart from our retail business, we regularly offer companies workshops about cultural integration and employee value. As a result of these creative hours, we produce customized socks and scarves, T-shirts and bags, or other fashion products focused on sustainability. By ordering on-demand, we avoid over-production. We are proud to be able to have these personal encounters with diverse people, providing companies with a platform to appreciate the cultural heritage of their employees. Our USP is the short and flexible process from workshop, design, sample to product delivery (six weeks).
Fair for people
Our production only takes place in factories we have visited, in collaboration with people we have met. We know in detail what happens in our production facilities and our priority has always been to honor those actually making our products by contributing to their salaries and well-being. Because of this, we have also taken multiple business decisions aimed at ensuring the health and comfort of the people we work with and their sustainability, even if in some cases it has limited our production capacities.
Low CO2 impact
We work with a very short supply chain for making our products. In essence, all our partners are located in a range of 800 km away from Vienna. We organize less than 10 transports from them every year and we have optimized the supply chain in such a way that we always choose the most environmental-friendly route. For our deliveries to customers, we always chose the CO2 friendly partner, such as the local post, and we always package our deliveries to take the least space possible.
Our Impact through people
We are in our core a social business, meaning we try to look at three important elements: people, planet, profit. As you might have guessed, people are the core of everything we are trying to achieve. A better world starts with happier people, and that only comes when we celebrate each other. To this extent, we are taking the following steps to stay true to our mission: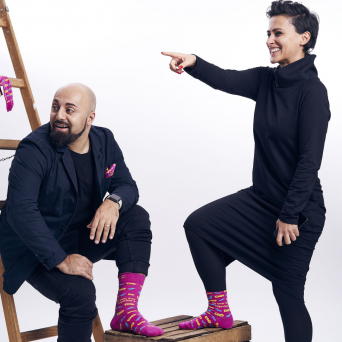 Promote the people we believe in – Celebrate success
The idea of Younited Cultures came as a solution to an old problem: discrimination. We do this through promoting the amazing people we meet, who share their inspiring stories, who turn percieved weaknesses into  strengths and who overcome challenges. No matter how they identify culturally.  Their stories are the ones we promote through creating scarves and socks with clever symbols, but we are also investing extensively in promoting their inspiring journey and doing PR to showcase the value they add to society. In this way, most of our work is directed towards encouraging im/migrants to find their paths towards happiness and success and to use their histories as a strength.
Spreading our knowledge – Celebrate Creativity
Part of our work involves working with companies to help them bring the cultural factor in the conversations about success in the workplace. And we do this in a creative way, delivering workshops and facilitating meaningful conversations, which turn into storytelling and free-drawing. At the end, the organizations benefit from our knowledge of turning diversity into organizational strength, but also from a creative personal giveaway as a company gift, as a result of the workshop. And those who attend the workshop get a bit of time to reflect, to open up, to reconnect to their roots and develop a pride for their own well-lived story.
Donate to partner organisations – Celebrate Life
We also have implemented a 3+1 model, meaning that with every three socks you buy, one is donated towards partner organizations. It functions very simply, at the end of the year we ask our collaborating partners who have helped us make a change to select a  social organization which would receive our donations. Who receives our socks? It can be refugees who have integrated themselves in the society (Refugees Code, Hemayat), young entrepreneurs with a migration background (Whatchado employees), girls and women (Mädchenbeirat)  who want to take a further step in their education. The socks come to them as a celebration of their achievements. It's our way of saying: our community appreciates you, you are doing the right thing, you are brave. We celebrate you! It might not sound like much but we guarantee you the positivity in this donation brings us closer to a world of cultural celebration. We see those who, maybe, no one else dares to see, for their courage. And thus you see them as well.
Help anyone who asks – Celebrate Movement
Because we celebrate anyone who starts things over in a new place and has the energy to shape a completely new life, we are here for you. From small business advice to career talks, helping you to find the right network or getting a relevant endorsement. We pride ourselves with the people we have encountered along the way and the exchange of positive energies that we have had. And if you feel like you would need something for your own story, you can always contact us.