Ali Mahlodji, Iran-Austria
Founder, writer, keynote speaker, proud father

Be your own superhero!
>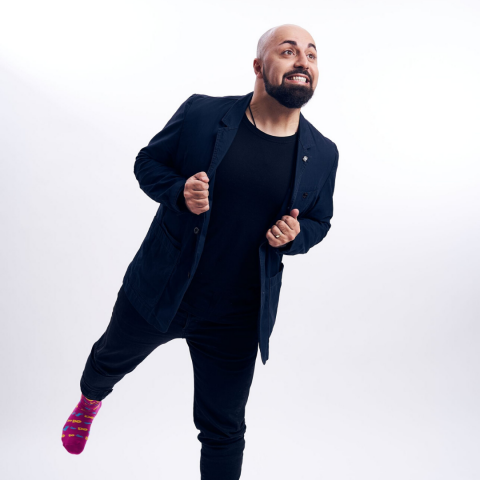 Ali's story
Born in 1980 in Iran, Ali has one of the most incredibly inspiring stories. Forced by the country's political circumstances, his well-settled family fled Iran overnight, while Ali was still a small child. After being smuggled through the forest, they found themselves in the Kurdish part of Turkey. The escape had been physically straining, but their courage was rewarded by a favorable meeting with Amnesty International. This is how the family received asylum in Austria, with his first Austrian home being in Traiskirchen.
Growing up in Vienna, Ali surrounded himself with people from different cultural backgrounds Iranians, Europeans, and of course Austrians included. He was always curious about the life stories of everyone around him. He wanted to understand what the motivation of other people was, so he could discover how his own life could look like. He wanted to collect life stories from early on. Little did he know it will one day become his career.
His time in school proved to be a challenge, never fitting in. But he used that as an opportunity to explore his potential on the job market.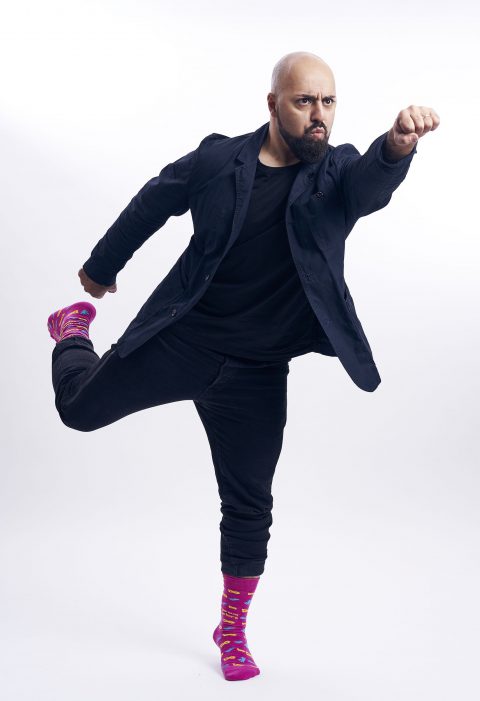 With 15, Ali started looking for jobs to try out and discover what type of work he loved to do and what type he didn't. Following his father's advice, he went on to try many different professions, eliminating those he didn't like and so coming closer to his real passions. On his professional journey, Ali"s quest took him through an amazing number of 41 jobs. Among those, he worked as a pharmacist, software engineer, programmer, consultant, and many others.  With 26, after a burn-out driven by his career in the corporate world, he decided to go to Thailand. Coming back, his search for a more meaningful job led him to become a teacher and then to switch to the social media sector. On his journey, he discovered that his struggles were also other people's struggles. And that like him, many youths but also adults didn't have a clear direction for their career and lives.
This is when Whatchado was born. Ali started with his best friend, Jubin a website to collect stories, in which everyone would give insight into their own careers and life choices.
This is when the idea of saving the world also started. One person at a time, one story at a time, made available for everyone online. To observe, to learn, to gain a new perspective. 
Today, Ali is EU Youth Ambassador, is a founder, writer, keynote speaker, and his most current and most important role, a father. Wherever he'd go, no matter how large the audience, he'd always take a selfie with the audience and send it to his mother so that she can be part of his adventures. 
Ali is one of the most positive people you'll meet, owing his curiosity and optimism to his mother. Beside all the roles he plays in life, he encourages everyone, especially young children to be their own superhero, to always look up and to make people smile.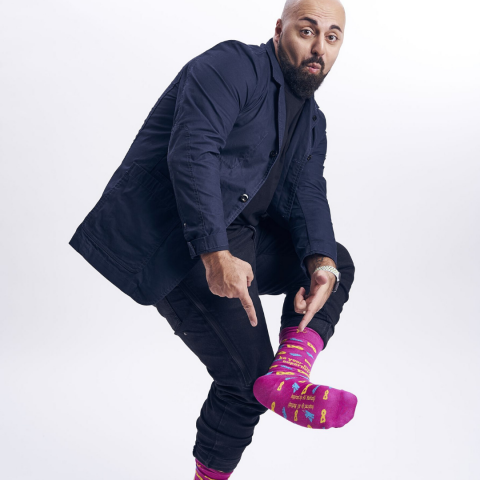 About the design
Ali hand drew the symbols on the socks design. He also wanted to pass on a good mood and happiness, that's why he chose the colorful socks pattern. He chose the magenta background color to show his daughter one day that pink is a color for all genders: men, women, diverse gender types. The core message he spreads around the world is to "BE YOUR OWN SUPERHERO" and to build your life by believing in yourself and your abilities. The DO message refers to Ali's eternal question, watcha do, what are you doing, what is your life story? It is also meant to symbolize an encouragement to explore every day, to DO, and try new things. It is a call to action to advance in life and to write your own story, step by step.
We celebrate diversity through celebrating Ali, our Younited Cultures Ambassador for immigrants from Iran, who is undoubtedly one of the most inspiring migrant role-models you'll ever meet.
---