"Our vision? To celebrate migration everywhere, anywhere, at all times!"
Two women sitting in an empty café, getting to know each other's stories. This is how Younited Cultures came alive. Today we make stories wearable!
---
Hi. We are Andra and Iulia, two migrants from Romania. Sharing the same experiences and challenges we faced as migrants: exclusion from groups, rejection from jobs, the bad perception … we also shared the wish to create the world we were both envisioning.
We realized that the topic of "migration" needs new channels of communication, new approaches against discrimination and more creativity. Younited Cultures is our colorful answer. Migration and success are the two topics our concept picks up.
Our goal is to make success stories of migrations visible and wearable. Together we discover inspiring stories, listen and visualize them through designer scarfs with a social impact. It is not about fashion products, it is about the stories they tell. This creative approach also made us winner of the Social Impact Start Award in 2014.
We are proud to be migrants! Our products are an elegant, cooperative and innovative way to visualize the positive impact of im/migrants and set a clear sign. The proceeds are used to support people with a migration background.
Dare to be the change!
#rebrandingmigration
Andra Weiss (Slaats)
CEO, PR, sales, marketing and partnerships.
Andra's big passion lies within storytelling and chocolate ice cream. She wants to inspire and lead by colorful example. Her "celebrate migration scraf" is her distinctive mark. To Andra, fashion is more than products, it is about people. With YC she does not want to set fashion trends but value-trends.
Iulia Berger-Mugescu
CEO, graphic, marketing, workshops.
If multitasking was a person, it would be Julia. Julia thinks in symbols and key-words. She is constantly working – preferably on many projects at the same time in order to be able to switch between topics and designs. At YC her to-do list starts with creative tasks and ends with the finances.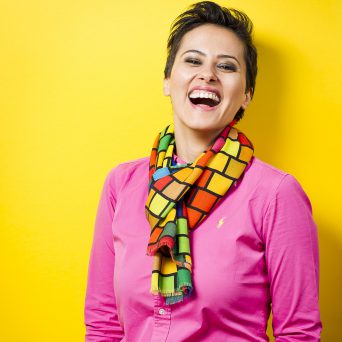 Our Mission
We aim to produce high quality accessories that tell a story and set a clear and positive sign for migration. Our first priority are personal stories and honesty.
We perceive YC products as a medium to kick start discussions and conversations. Discussions about origin, home and integration, but also about our clothes and the work that stands behind.
As a eco-social fashion label it is our personal concern to insure that we can trust in all our partners and collaborators. We ensure faire working conditions in every single production step.
Our Values
We act socially, ecologically and financially sustainable and create a social added value through raising awareness about migration and cultural diversity. Our revenues are partially reinvested in new stories and projects and do further support discriminated migrants to facilitate their access to the labor market.
Symbol
With our colorful YC-pattern we developed a unique and outstanding symbol for migration and cultural diversity. Every color of the "celebrate migration" design stands for a different culture. When being combined they merge to a pattern celebrating creativity and diversity. A colorful unit – bringing our message and values to the world.